Conferences over Zoom are just nowhere near as engaging as live events. From conversations in the hallway over coffee to meeting new people, to the drinks receptions and the flexibility to move around at an event, there are so many more opportunities to exchange ideas with people when you meet in person.
While turnout numbers at conferences are not currently as high as they were pre-COVID, this conference for me marked a turning point - it feels like we are finally returning back to some sort of normality.
One thing that struck many of us was that we all had not experienced large in-crowd gatherings for a while. Several people that I spoke with talked about how alien it felt to be back in this environment again, and their difficulty in adjusting to this, especially in a setting like Las Vegas, which is outgoing, in your face and flat out boisterous.
Among those of us who are more introverted, the consensus was that we needed to take time outs to clear their mind during the conference because the stimulus was at times overwhelming. I think that's overall a healthy thing to do at any rate.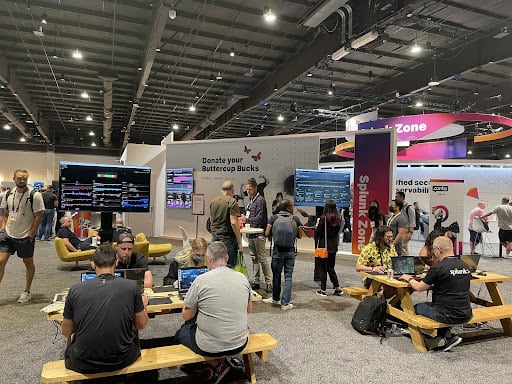 My talk
This year I also had the pleasure of speaking with the esteemed Billy Hoffman, formerly CTO of Rigor, now Senior Principal Engineer at Splunk.
Our talk, titled "How To Use Splunk® Observability Products to Delight Customers and Drive Conversion as You Deploy Continuously" was delivered to a diverse audience made up of people in several different job roles. It was a great opportunity to share some knowledge of performance optimization to this audience.
The talk was an introduction to web performance, specifically for people who had not worked heavily in this field. We broke this down into 3 distinct sections:
How Performance/UX Impacts the business
How to assess Performance / UX
What you can do to start delighting your customers
You can view the presentation from our talk on this link .
Other things I learned from the conference
Alert fatigue (where people who are monitoring systems get overwhelmed by a lot of false positive or noisy information) has been real, especially during COVID. Everyone is looking for smarter ways to ensure logs are not polluted with unnecessary information and to be able to intelligently tune alerts. Splunk have listened and are delivering more intelligent solutions to these very modern problems

There's an interesting trend of people interested in understanding the environmental impact of what we're doing from a technology perspective. This is inspiring for me, and I'm looking forward to spending some time brainstorming some practical service ideas in this space with our customers and wider team

Chapman Lever, Product Manager at Splunk announced that they have almost completed integration of Rigor's core capabilities into Splunk's wider Observability platform

Splunk announced a new release of Splunk Incident Intelligence for Incident Management that definitely looks interesting. I'm looking forward to diving into this

Splunk announced that a fully free version of Splunk Cloud Developer Edition will be made available
Finally, I hope to see some of you next year at the next Splunk Conference (July 17-20 2023)!